What is Flathead Tech4Good?
Flathead Tech4Good helps students explore careers in art, science, and technology-related fields, build technical and artistic skills, and work together to meaningfully solve local community challenges.
Flathead Tech4Good (FT4G) is about having fun and creating inspiring activities that maximize community strengths and develop our collective impact.
Each year Flathead Tech4Good hosts a variety of partner-enabled and student-led programs and events that allow Salish Kootenai College to amplify their impact on the community in focused ways.
_____________________________________________
This year, our programs include:
Gaming the Future
Gaming the Future is our annual year-long project that takes place over three weekends of intensive collaboration, called "game jams," occurring in the fall, winter, and spring. During game jams, community members, SKC students, and area high school students work with local experts to identify and storyboard the relevant issues surrounding a specific challenge theme, which is chosen by the Flathead Tech4Good Advisory Committee at the beginning of each program year. We then brainstorm and present possible solutions involving art, science, and technology. These solutions are ideally prototypes, such as games, apps, etc, but we welcome outside-the-box thinking. By the end of the first game jam, our goal is to have a working prototype that addresses the community challenge. At the winter and spring game jams, we discuss the prototype with our partners, gather feedback from experts, and refine our product through play testing and discussion. At the conclusion of Gaming the Future, we present our final product to our partners as a gift that will help solve or raise awareness about an important community challenge.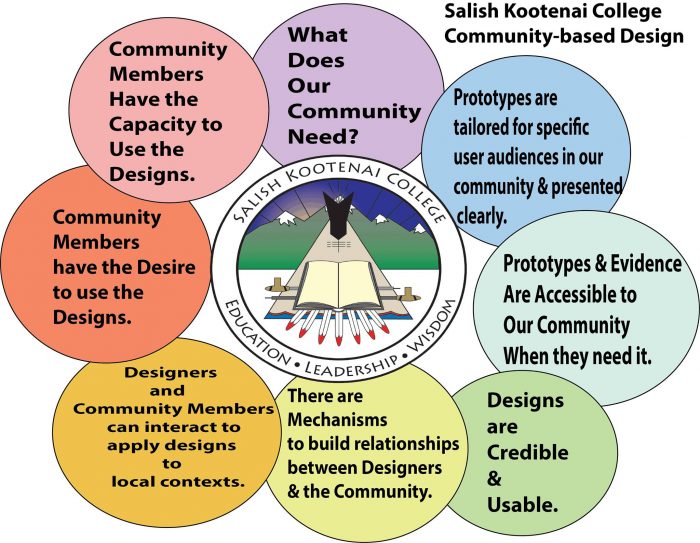 SKC FT4G Gaming the Future Design Process
Afterschool Workshop Series
Flathead Tech4Good will be hosting a variety of afterschool workshops for area 8-12th graders and SKC students. Students will develop technical skills such as computer programing, graphic design, media design, and more. These workshops will provide valuable experience and help students develop skills and confidence to pursue various career and educational opportunities.
FT4G Mentors Program
This year, Flathead Tech4Good is piloting a guided mentorship program that connects SKC students with local 8-12th graders. SKC students will provide positive role models, examples of success, and one-on-one skill development opportunities. Mentorship pairs may also have the opportunity to work with local organizations on projects involving art, science, and technology. We are also planning several Tech4Good field trips through the Mentors Program. More news to follow!
Native American Summer Tech Camp
During the summer, we host multiple four-day camps where high school students get hands on instruction in technology-related skills such as coding, media design, game design, and web development. These camps are a great opportunity for students to explore possible career paths in technology-related fields and build their technical skillsets.